At the just concluded 20th National Congress, green and low-carbon development has once again become the focus of discussion. As an important economic growth pole, Guangdong has been actively exploring low-carbon development systems and mechanisms, and many Guangdong real estate enterprises are also vigorously building green buildings to promote energy conservation and emission reduction. In order to deeply tap the green development potential and cooperation opportunities of Dawan District, on October 29, Youcai and the WELL Building Research Institute (IWBI) jointly launched the "Low Carbon Healthy Ecological Chain" cooperation conference in Guangzhou, and the upstream and downstream of the supply chain jointly discussed measures to build green human settlements and promote the upgrading of new cycle product strength.
At this meeting, Alan Kang(Jia-Xiang), the director/general manager of Shanghai Suwalper Functional Decor Materials Co., Ltd., and Zhong Jian-ping, the general manager of East China of the Zhongfang Youcai Platform jointly released the 2022 China Real Estate Wallpaper and Wallcovering Engineering Application Manual jointly compiled by both parties.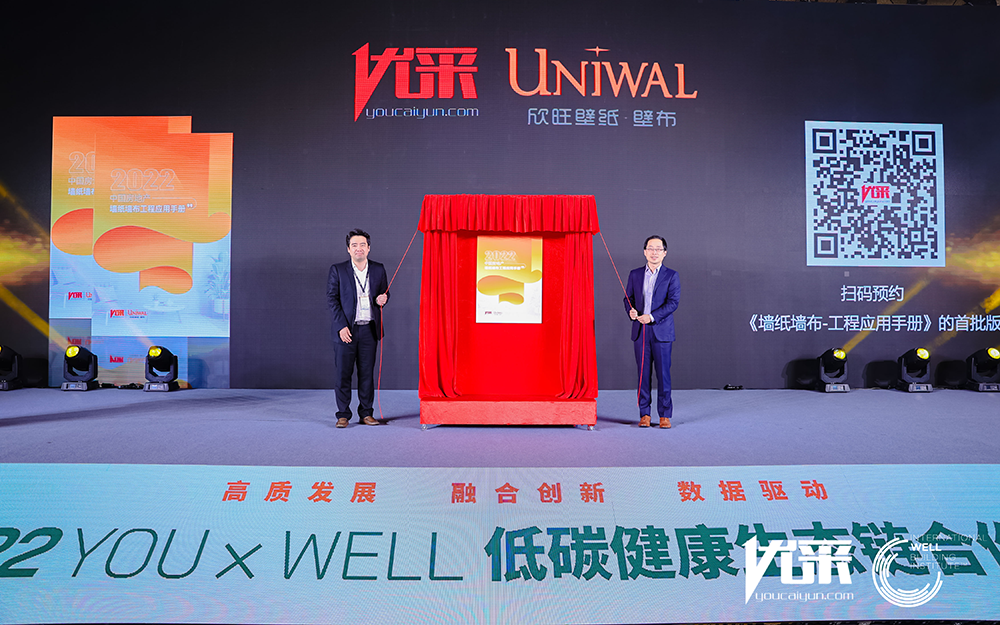 2022 China Real Estate Wallpaper and Wallcovering Engineering Application Manual is a valuable interior wall decoration reference book jointly produced by Youcai Platform and Suwalper, a leading wallpaper and wallcovering supplier in the industry. The Manual combines the advantages of Youcai platform in big data acquisition in the industry and Suwalper' s years of practical experience in the field of interior wall decoration. Based on the - 2021 version of last year, it analyzes and interprets in more detail the development process, existing market scale, actual application in projects, cutting-edge technology and development trend of the domestic wallpaper and wallpaper industry.
At the same time as the Manual was released, Alan Kang(Jia-Xiang), the director/general manager of Shanghai Suwalper Functional Decor Materials Co., Ltd., also gave the guests a preemptive interpretation of the Manual: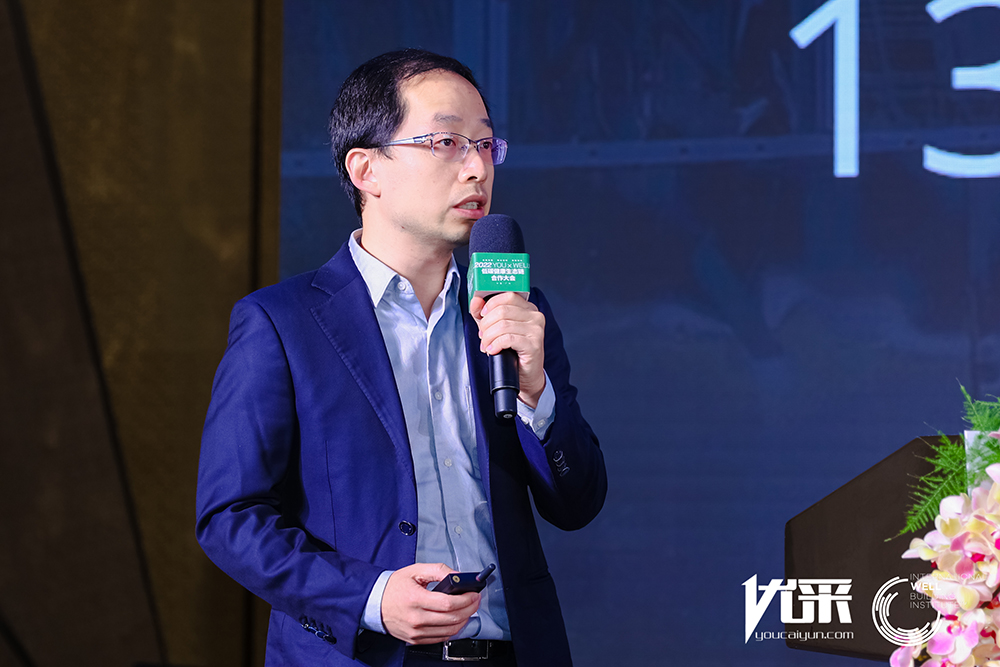 Alan Kang(Jia-Xiang): Dear developers, Youcai partners and suppliers, good afternoon.It's my honor to come to Guangzhou today to share with you the introduction of the Wallpaper and Wallcovering Engineering Application Manual that we launched for the second consecutive year.
First, let's take a look at the development of the industry. General situation of industry development in the past six years or so.

In the ten years from 2011 to 2021, the current scale of the entire industry is about 1.8 billion square meters. In the past, in addition to domestic use of wallpapers and wallcoverings, foreign trade was also a very large and important market, including Southeast Asia, the Middle East, and Eastern Europe, all of which are key domestic foreign trade markets. Compared with 2020, the market has declined to a certain extent. In addition to the epidemic as the main reason, including changes in the international situation and the global economy, so there is a certain decline.

In the past two years, wallpapers were slightly less than the total amount of wallcoverings due to industry demand. In addition to the wallpapers and wallcoverings just mentioned, one of the materials that has grown rapidly is the resin-faced fabric-backed wallcovering, which are widely used in the hotel field. In the past year, it has increased by about 114.74%, from 10 million square meters to more than 30 million square meters.
In the past year, due to changes in the global epidemic situation, compared with the wallpaper and wallcovering market in 2021, the total size has declined by 22%, but the total volume is still more than 1.8 billion square meters. The differentiation is also obvious. Wallpapers are mostly used for fine decoration of residential buildings, hotels, and foreign trade markets. Wallcoverings are mainly used for retail stores and some hotel decorations.

We just mentioned the environment of the entire large category. Let me share our budget for refined decoration and the relationship between the use of wallpaper and wallcovering. According to statistics from Youcai cloud platform, the total opening area in 2021 will be 1,585,808,100 square meters, and the fully furnished area will be 681,950,000 square meters, accounting for about 43% of the fully furnished market. Compared with the decoration area, the full decoration market has grown by 176% in the past five years or so. Through the analysis of Youcai data, we believe that the full decoration market, no matter what material is used for the wall or the interior space, there is still room for growth. Relatively large room for improvement. This is our main budget distribution for the full decoration market. From 2015 to 2021, most decoration budgets still fall within the standard of 2,000 to 3,000 yuan, or less than 2,000 yuan, which is the mainstream of the market. We took advantage of the opportunity to publish the manual to carry out the allocation ratio of wallpaper and wallcovering in 30 key urban decoration projects. Compared with 2019, the ratio of wallpaper and wallcovering configuration in 2021 will increase significantly. We define that whether the whole house is used or part of it is included, it will increase from 24.85% to 31.47%.


Now let's share with the developers of real estate enterprises how to choose wallpaper and wallcovering products through bidding and materials. From the perspective of the cloud platform of Youcai, in the past year, some benchmark real estate enterprises, including Vanke, China Overseas, China Resources, Poly, etc., have used wallpaper and wallcovering in many residential projects, and more and more attention has been paid to the centralized procurement bidding of wallpaper and wallcovering. In terms of the overall structure, the two are differentiated. The more advanced the top real estate enterprises are, the higher the proportion of bidding is, and the higher the concentration is.



Wallpaper is an industry with a relatively low bidding ratio. Eight of the top ten real estate companies have national centralized procurement cooperation for wallpaper and wallcoverings. For the top 10, from January to June 2022, the quotation method is group standardized or frame quotation method. They also have different categories according to the usage habits or design styles of each developer, such as the current seamless wallcovering, it is widely used in some real estate companies. The supply method is divided into two categories, one is supply only, and the other is supply + construction.

Different materials are suitable for different scenarios. Non-woven wallpaper is suitable for the whole country. It is environmentally friendly. Real estate companies classify high, medium, and low according to the weight.
Regarding the introduction of the manual above, you should have an engineering application manual on your desk. I hope that after reading the manual, if you need an electronic version, you can negotiate with Youcai. If you need further explanation, please contact us or Youcai. We will be enthusiastic Provide further answers for you.
Next, I'd like to share Shanghai Suwalper.
Suwalper is a material company in different fields mainly in the industry of wallpaper and wallcovering. It is headquartered in Shanghai, with operation centers in several Asian cities and countries and 4 production bases nationwide.


It mainly cooperates with real estate companies, some of which are national collective-purchase companies or regional collective-purchase companies. It also serves many projects every year.

We have rich experience in real estate centralized procurement. Every year, more than 20 developers conduct centralized procurement, and complete 1,500 hotel chain projects each year. Vanke, China Overseas and China Merchants are our major customers.
This is our national standard or corporate standard sharing. No matter heavy metals, formaldehyde, or other indicators, we can achieve undetected or negligible values.

We now have many wallpapers that are difficult to deliver, because small owners form customer complaints due to a little bit of cracks, a little bit of uneven patchwork or partial edge warping. So now we have done a lot of construction supporting services, whether it is in the south, the north or all over the country, we have our own construction teams to serve different projects, from flatness testing, hardness testing, or related technical guidance, on-site management. These are the services and advantages we currently provide.

Today, many material supplier partners have mentioned technical products. Suwalper has its own background as a new material company. We also have a lot of invention patents in the United States, Japan, South Korea, China, and other countries around the world, including anti-mildew, anti-bacterial and other products.


Let's take a look at different products. In the traditional definition, wallpaper walls are particularly easy to adhere to some dust or some common stains in life. We use precision technology and manufacturing process, and use fluoride technology to prevent stains. And our anti-mildew technology can effectively prevent mildew.

We use zinc oxide to introduce into wallpaper technical materials, which can reach the antibacterial standard of more than 99%.
Together with Suwalper, build dreams and reach far.